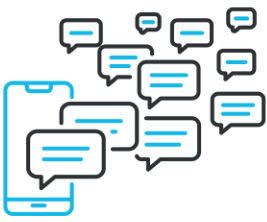 Text Blast Services for Businesses
People are always on their phones. And, that's a great thing for marketers since there are easy-to-use platforms for reaching their audience via text messaging like 5Boro Digital.
A well-written text blast can introduce a brand to customers or showcase a specific product. Texts are also highly effective for getting people excited to attend events. Texts should be friendly, engaging, and branded for best results.
And, best of all, SMS marketing has never been easier thanks to 5Boro Digital easy-to-use texting solutions platform.
Pricing for SMS Marketing Built to Scale
Simple, Low Cost Plans for Everyone
Looking for texting inspiration?
Read real examples of great text messages.
Over 5,000 users across 24 different industries use 5Boro Digital to send mass messages fast. How will you use 5Boro Digital ?

Retailers
use 5Boro Digital
Thanks for joining our mobile book club. Come in today, and receive 20% off any purchase in the store. Show this text and also get a coupon for your next visit.

Schools
use 5Boro Digital
Reminder to all parents of the Nanuet Elementary School. Tomorrow is casual Friday. Please pick up your kid's by 12 noon. And all homework is due tomorrow as well.

Restaurants
use 5Boro Digital
LILO's Brewery just introduced Boss Tweed India Pale Ale! Come in before 5 PM and get $2 off any craft beer on tap. Show this text.

Professionals
use 5Boro Digital
Reminder: Serena Lucia. Your dentist appointment with Dr. Cohen is tomorrow at 12 noon. Please don't be late. We look forward to seeing you!

Real Estate
use 5Boro Digital
3380 South Coast Hwy. Laguna Beach, California 92651. Features 4 Bedrooms, 2 full baths, 2,967 sqft lot. Views! For more info call: Richard Jacobs at 217-525-5559

Enterprises
use 5Boro Digital
Tomorrows all employees off site meeting will be held in the Oak room at Lake Winery in Napa Valley. Please bring your laptop and a good appetite.

Non-Profits
use 5Boro Digital
Thank you for your donation. Your generosity helps change the lives of families and young children all around the world who are in need of access to clean drinking water.