Reach Your Ideal Customers with a Targeted Mailing List
Targeted mailing lists refine your direct marketing campaigns and produce better results by reaching the audience most likely to become your cusomter
High Quality Mailing Lists
When marketing with direct mail, it is extremely important to define your ideal audience in order to maximize campaign effectiveness and generate more new business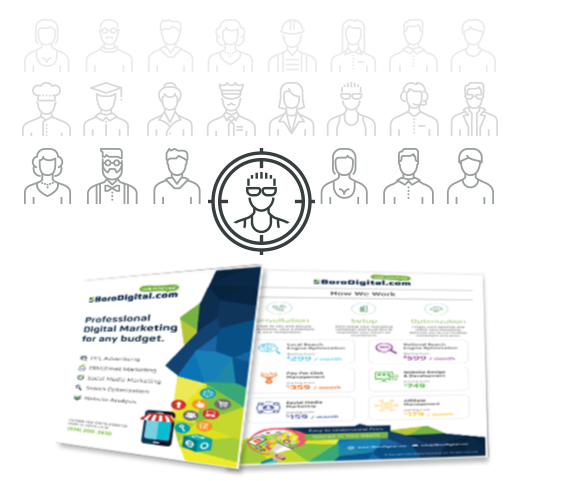 Find & Reach Your Ideal Audience
with Our Targeted Mailing Lists
A high quality targeted mailing list is the most efficient way to get the reach your ideal audience and generate new bussiness. We work with the nation's leading list compilers to help you reach the prospects most likely to buy your product or service.
Get the most out of your direct marketing budget by only delivering mailers to your target audience. Our team will help you select the right criteria, identify the size of your target market and purchase the mailing list that's best for your business.
Occupant / Resident Lists
Do you run a neighborhood based business? Let us help you turn your neighbors into customers! An occupant list (also known as saturation list) is our least expensive, yet extremely powerful mailing list. A saturation list is a mailing list to all "Current Residents" of a geographic area. It is usually mailed to everyone in a postal route.
Business Targeting
Our business database is compiled by Dun & Bradstreet and is comprised of 27 million businesses in the United States. Because companies will go out of business without warning, the deliveribility of the business database is guaranteed at 85% and the average is 90.5%. All records are DPV verified 100% to ensure that you receive the best quality address available.
Consumer Targeting
Choose from 115 million households and filter the most ideal prospects from criteria such as age, income, sex, home ownership, lifestyle and more. Our consumer database is compiled by Axiom data and is comprised of most households in the United States. The average deliverability is 95% and it is updated monthly.
New Mover Lists
Every year more than 45 million people move to a new home. Turn new movers into new customers with our advanced new mover lists. Reach every new mover within a geographic area and target your list by income, home value and recency.

Business & Consumer Email Lists
Take advantage of the ease and effectiveness of email marketing
with a targeted email list from InfoUSA.
Buy a List of Business Emails
Search by type of business, size, location, title, and more to create the perfect business email list.
Send Email Campaigns to Businesses or Consumers
After creating a targeted email list of businesses or consumers, use our email templates to design, send, and track an email campaign that gets results.
Add Email Addresses to Your Current Customer Files
Our Email Database Append solution will add email addresses to your list to help reach your customers more effectively.