In the dynamic world of online marketing, where social media platforms reign supreme, small businesses and internet marketing agencies alike cannot underestimate the potential benefits of a well-executed social media strategy. While most are already acquainted with the basic social media marketing techniques, there's a multitude of creative and advanced methods to explore, allowing businesses to truly make their mark in the virtual landscape. This guide provides a comprehensive look at these innovative strategies, specifically tailored for businesses in internet marketing, SEO, and PPC management.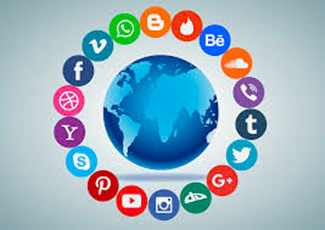 Bringing Products to Life with Video Content
We all understand the importance of showcasing our products and services on social media. However, providing your audience with an exclusive look at how your audience with an exclusive look at how your products or marketing campaigns are created offers an additional layer of engagement.
Quick, behind-the-scenes videos can be posted on various platforms, including YouTube, Facebook, Instagram, or Snapchat. This not only humanizes your brand but also provides valuable content for your audience, fostering trust and transparency.
Harnessing the Power of Testimonials with Hashtags
Testimonials play a crucial role in establishing credibility and trust. Given the brevity required for effective social media posts, condensing a testimonial can often be challenging. A creative solution is to establish a unique hashtag for this purpose. Encourage your clients to share their experiences with your SEO or PPC services in this compact format. This allows you to easily repost these testimonials, amplifying positive feedback and increasing your brand's credibility.
Celebrating Your Team on Social Media
Your team is the backbone of your success, and showcasing them on social media platforms can enhance the human aspect of your business. Establish a regular 'Employee of the Week' or 'Employee of the Month' feature, highlighting your team's expertise in SEO, PPC, and internet marketing. This not only boosts team morale but also gives clients an insight into the professionals behind your excellent services.
Capturing Behind-the-Scenes Moments
Regular, candid snapshots of your business operations can further humanize your brand and foster a connection with your audience. Periodically, dedicate a day to sharing photos of your team at work, providing your audience with a realistic look at the day-to-day operations of your internet marketing business.
Showcasing Your Expertise Through Tutorials
One step beyond merely showcasing your services is to demonstrate how they can be used effectively. Create and share quick tutorials that highlight unique features of your SEO or PPC services. This provides clients with practical knowledge while simultaneously demonstrating the value of your services.
Making the Most of Instagram's Features
From stop-motion videos to Boomerang images, Instagram provides a wealth of features to make your content more engaging. Use these tools creatively to demonstrate your services or highlight success stories in a unique and fun format.
Creating Engaging Pinterest Group Boards
Pinterest can be a powerful tool for content sharing and audience engagement. Start a group board where clients can share their experiences with your internet marketing services or discuss related topics. This interactive approach not only fosters a sense of community but also provides you with valuable insights about your client base.
Partnering for Greater Reach
Collaborating with other companies for social media campaigns can significantly increase the reach of your posts. Consider partnerships that allow you to showcase your services alongside complementary businesses. This can be particularly effective for content that demonstrates the integration of various online marketing services.
Varying Your Social Media Voices
Keeping your social media content fresh and diverse can be as simple as varying who's in control of your accounts. Consider allowing different team members to take over your accounts periodically, or even host a promotion where a client can curate content for a day. This brings a range of perspectives to your content, keeping it interesting for your followers.
Recommending Valuable Resources
Building on your role as a trusted advisor in internet marketing, recommend other accounts that provide valuable insights into SEO, PPC, and digital marketing strategies. This not only adds value for your followers but also fosters a sense of community within your industry.
Adding Personality with GIFs
Adding GIFs to your social media posts can inject a dash of personality and fun into your content. This is especially effective on platforms like Twitter, where dynamic content stands out. A well-placed GIF can highlight your brand's personality and make your content more engaging.
Building a Brand Character
Whether it's a mascot, a popular team member, or an office pet, a recurring character in your social media posts can foster a sense of familiarity and engagement among your followers. By incorporating this character into your posts, you can create a unique brand identity that is easily recognized and appreciated by your audience.
Crowdsourcing Content Through Photo Submissions
The content you share doesn't always have to originate from your business. Encourage your clients to share their own photos related to your services or their success stories. This not only diversifies your content but also enhances your connection with your clients and validates their experiences.
Engaging Your Audience with Contests
One way to boost engagement is by hosting fun and interactive contests. For instance, a 'Caption This' contest featuring a humorous team photo or industry-related image can spur creativity among your followers. Sharing the best entries not only rewards participation but also adds variety to your content.
Embracing Memes for Branding
Memes can be a fun and contemporary way to connect with your social media audience. If there's a trending meme that aligns with your business or industry, customize it with your own caption and share it with your followers. This not only shows your brand's sense of humor but also its relevance and up-to-date nature.
Hosting Q&A Sessions on Social Platforms
Social media can be an excellent tool for addressing customer inquiries. However, consider taking this a step further by hosting a Q&A session on platforms like Snapchat or Instagram. This allows your followers to ask questions about SEO, PPC, or internet marketing, and you can answer these in quick, informative clips.
Stimulating Engagement with Trivia Questions
Asking trivia questions about your company or industry can be another way to spark engagement. Consider offering a prize, like a free consultation or a discount on your services, to followers who answer correctly. This not only encourages interaction but also creates an opportunity to educate your audience about your business and industry.
Celebrating Your Company's History with #tbt
The popular #tbt (Throwback Thursday) trend can be a wonderful opportunity to share your company's history and growth. Post old photos or significant milestones from your business's journey, offering your followers a glimpse into your progress and achievements in the realm of internet marketing.
Starting a Weekly Series
Establish your own weekly theme or series that aligns with your industry. This could range from 'Marketing Tip Monday' to 'Success Story Saturday.' Not only does this provide a regular stream of content, but it also creates an opportunity for your followers to participate and share their experiences.
Through the strategic and creative use of social media, businesses in the realm of internet marketing, SEO, and PPC management can connect with their audience, showcase their expertise, and foster a strong online presence. The techniques outlined in this guide provide a roadmap for making the most of these powerful platforms, paving the way for success in the digital landscape.
#5BoroDigitalMarketing, #LocalSEOExperts, #PPCProfessionals, #SmallBusinessGrowth,
#DigitalMarketingNYC, #WebsiteDesign5Boro, #LocalBusinessBoost, #SMBMarketingNYC,
#BoroSEO, #BoroDigitalSolutions