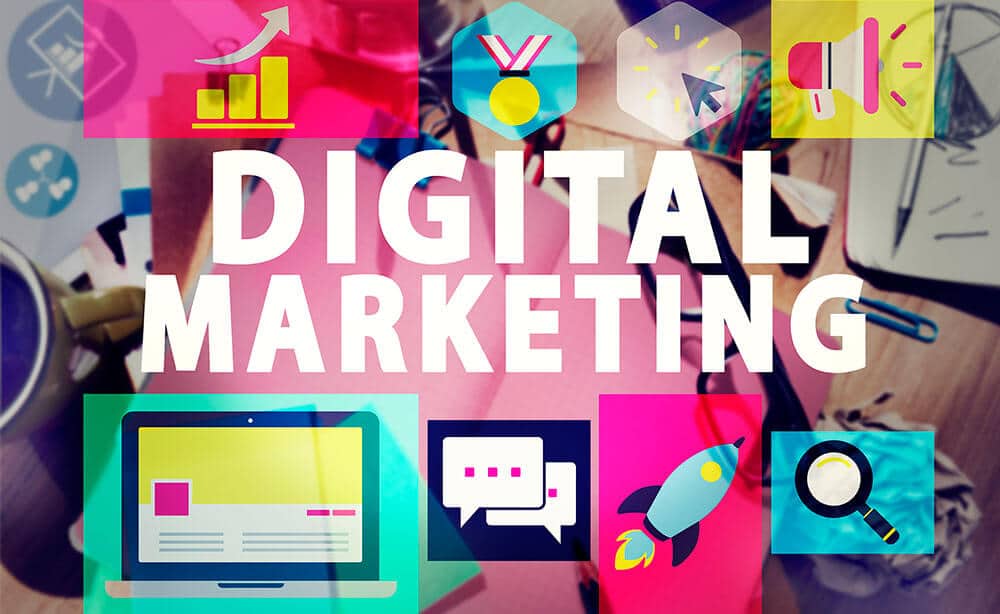 Digital Marketing?
Digital marketing is an extended-term. When someone mentions the term "Digital Marketing," he refers to several different strategies, tactics, and passages. So, there is a thick line between "digital marketing" and "marketing" because technology has changed everything. So, here is an effort to tell you in detail what it is and how it works.
What is digital marketing?
When we search about digital marketing, we find plenty of definitions, and those are not enough to tell us the real meaning. I think at this level; there should be one whole definition to convey the real meaning of digital marketing. So, no one can better explain it than the "Neil Patel." He said;
"Digital marketing simply as promoting or selling products or services using electronic devices."
Background of Digital marketing
Digital marketing knocked at doors with a bang in the early 2000s, but the history is too old. The evolution time of digital marketing depends upon the definition that we take to understand it. Some people think that "Guglielmo Marconi" invented this concept when he created the radio. Some people believe the hat of digital marketing went to "Ray Tomlinson" when he sent his first email. Some other people think that DM invented in the 1990s when the first search engine was born.
Forms/types of digital marketing
Apart from the history of digital marketing that we discussed, there are two types of digital marketing;
One is an offline digital marketing
And the other one is the online digital marketing
I know there is a question that is grumbling in your minds about how digital marketing can be offline. Isn't it? Most people think that digital marketing linked with search engines, social media, or other platforms that connect to the internet. But if we believe the above definition of "Neil Patel" then it could be in both ways. Because it involves electronic devices in it. So, it can be offline as well as online.
Offline digital marketing
Offline digital marketing is the technique in which you promote your products or services using electronic devices that don't connect to the internet. There are following some examples of offline digital marketing ways;
Radio marketing
TV marketing
Electronic billboards
And phone marketing along with many other ways.
Online marketing
I know now you are quite clear about the concept of online marketing after reading the above idea. So, online marketing includes all those tactics and strategies in which you promote your products or services using electronic devices that connect to the internet. There are the following things in online marketing; 
Content marketing
Paid social media advertising
Influencer marketing
And email marketing
Are there any benefits to digital marketing?
Digital marketing has changed the dimensions of doing business drastically. Now, no one can even think of doing a successful business without digital marketing.
Benefits of Digital marketing
More access
According to the facts, American people spend, on average, 11 hours per day while using their smartphones. People spend most of their time on phones, and this trend emerged in 2008. Every other person searches online when he wants to buy or sell something because now people find online sources credible and trustworthy.
So, if you are using digital marketing, then it means you are approaching more potential buyers, and they can check your services instantly. According to the stats of the USA, there are 78% internet users, 66% active social media users, and 60% of people are active mobile social users.
Cost-effective
Digital marketing is very cost-effective, and you can access around 77% of Americans, even if you are running a small business. You don't need millions of dollars to run your marketing campaign; you can simply spend some bucks and approach the worldwide market.
Measurable results
The main advantage of digital marketing is, there are many websites through which you can analyze the effectiveness of your strategies. These websites give the numeric proofs of how your strategies are working according to your plan and tactics.
More targeted audience
One of the exciting benefits of digital marketing is that you can target your customers and audience efficiently. You can even focus on people based on their race, age, gender, and other demographical features. Isn't it cool? You can choose and target your customer with the help of some clicks.
More adaptable
Digital marketing has changed the way of doing business, and now you can change your marketing strategy with the help of few clicks. Suppose, if your plan is not giving you desirable results and profits, then you can re-launce your project with some tweaks. Digital marketing allows you to check the effectiveness of strategies side by side. You can respond timely if things aren't working well.
Better customer relationships
Through digital marketing, you have 24/7 access for your customer; they can always contact your business using available mediums. In recent times, social media added extra points to provide excellent customer service. Companies are still available on social media platforms to answer the queries of their customers.
Why Should I use digital marketing?
"Ignoring digital marketing is like opening a business but not telling anyone."
I know this is the fundamental question that comes in the mind of every person who is just listening about digital marketing. So, the honest answer to this question is; yes!. You should use digital marketing for your business to see drastic results in your sales and profits. The first rule to capture potential customers is to reach their level and target their interests. So, in the modern technological age, where every other person is using smartphones, digital marketing is a comprehensive solution. You can get your customers by targeting mobile screens. You just need to use the right approach to attract them.
Digital marketing shows excellent results for small businesses, where they can target more customers by incurring less cost. It is easy to use, design, and manage. Potential customers are few clicks away from you, and you can easily attract them.
You only need the right agency, which has the potential and capability. The right agency can guide you in the right direction with the right tactics and effective strategy.
Is there any difference between marketing "strategy" and "Tactic"?
I know most of you confuse between "Marketing strategy" and "Marketing Tactics." Most people use both of these words as synonyms, but it is the not correct form to use these. If you want proof from a renowned author then "Sun Tzu" has already said;
"Strategy without tactics is the slowest route to victory. Tactics without strategy are the noise before defeat."

Sun Tzu (500 BC)
Marketing strategy;
Marketing strategy is the big picture of your planning, vision, and focus. In this, you make long term plans to achieve your goals and objectives. Through marketing strategy, you tell the idea of your business and planning that you are going to do in an extended period.
Marketing Tactics;
The tactic is the smaller picture of your marketing strategy. Marketing tactics are all about the ways through which you introduce your approach and make small plans to achieve your vision. Through tactics, you determine the performance of your business daily, weekly, or annually. In this way, you decide that you are moving towards your goals or not.
Without the right tactics, you cannot meet your strategy. Every business needs to have the right tactics for a successful marketing strategy, as both things go parallel.
What are digital marketing strategies?
From the above discussion, it has proved that if you want to achieve success, then you need the right goals and objectives. Once you have the right intentions, then you can start to build your strategies to meet them.
Digital marketing strategies
There are the following digital marketing strategies that will act as a bridge towards your success. You can use these strategies to reach your ultimate goal.
Social media marketing (SMM)
Social media is emerging as the new trend for the existence of any business. Using social media platforms, companies make their business profiles and pages to reach their customers. These platforms help the business to achieve marketing goals by providing an effective discussion medium. Companies use these pages and platforms to engage people by sharing blogs, videos, and images related to the company. There are some paid options as well where companies can advertise them to boost their sale. Marketers use Facebook and Instagram to sell their products by targeting the right audience.
Brands that ignore social media will die. It's that simple."
Nowadays, there are many social platforms, so it is essential to know and choose the right ones to save time and money. Here are some popular platforms which can help you with suitable marketing.
• Facebook • Instagram • YouTube • Twitter • Pinterest • LinkedIn • Snapchat
Search engine marketing (SEM)
Through SEM, you can gain the traffic at your site by purchasing the ad on search engines. There are following types of ads that you can buy to boost your traffic and sale;
• Google ads • Bing ads • Facebook ads • Display ads • Google shopping
You can choose from the list according to your purpose and need. Most of the people use pay per click (PPC) and Google ads to boost sales. By using these ads, you can target people based on demographics, earning, and spending habits.
Search engine optimization (SEO)
"You are out of business if you are not available on search."
SEO is an art and science to direct the traffic and potential customers from search engines to your website. SEO is the central part of the digital marketing, and you need to align your business goals and plans with your SEO strategy for drastic success. Further, some SEO tactics help you to meet your SEO strategy efficiently. The primary tactics are as under;
• On-page SEO • Off-page SEO • Technical SEO
For a better digital marketing strategy, it is essential to use the above tactics in the right direction.
Lead generation
Lead generation is the name of the process where we find or cultivate the potential customers for the products and services of a business.
A lead person is someone interested in the offerings of your business. He visits your websites, shows interest in your services, downloads something, or use any free trial by giving his information. When you know that person, then the next step is to convert him into a customer. There are the following tactics through which you can turn your point into a customer;
Email marketing
Content marketing
Webinars
SEO
Websites or landing pages
Pop-ups
Paid search
Paid social media
Email marketing
Email marketing is quite a successful tactic to convert your leads into customers. In email marketing, you send the regular updates related to your products and services to your customers by using their email address. Email marketing widely uses to build a strong relationship with your potential customer by sending regular updates to your services.There are following some tactics of email marketing;
Transaction email is like; thank-you, confirmation, etc.
Lifecycle emails are like; time since last purchase and recommendation of a new product based on previous purchase.
Promotional emails are like; sales, new product launch or newsletters
Inbound marketing
Inbound marketing is the method to attract and engage customers to build trust and enhance sales. The core concept of inbound marketing is to address the pain points of your customers through content writing and give them in the shape of your products.
Inbound marketing is the combination of marketing, sales, and services to provide value to the customers against their money. The effective strategy of inbound marketing demands the right implementation of CRM and marketing automation.
Content marketing
"Content is the king if target with right keywords."
The business which is better in storytelling is the one who gets success. Every company has some kind of story, so it is the key point to enhance sales through content marketing. Basically, in content marketing, businesses try to engage their customers through valuable content.
The main goal of content marketing is to build strong and problem-solving relationships with your customers. You make that by telling solutions for their problems in your content. Content marketing is a slow yet effective strategy, and you earn loyal customers through this tactic. Unlike paid marketing strategies, you have to give more time to this to build trust and growth for your business.
Influence marketing
Influence marketing is the new trend. Through IM, you use the renowned personalities with a huge fan following to promote your products or services. The influencers promote the products or services through their reports against a certain amount of payments. It has become an endorsement for the digital age.
Conversion rate optimization
Some people focus on increasing the amount of traffic on their site. But conversion rate optimization is the strategy in which you concentrate to convert a higher number of people into customers. In CRO, the main goal is to instigate the customer to fill the form or purchase something by visiting the website.
Although it is not easy to set the conversion goal, it can boost your business by giving valuable customers. CRO strategies include;
A/B testing landing pages
Adding a chatbot to high converting pages
Optimize the high performing pages
You can simply check your conversion rate by using this formula;
Visitors who performed desired action/total visitors*100 = conversion rate
Frequently asked question (FAQ)
There are the following some questions that frequently pope up in the minds of people. So, here are the answers to those questions.
What should be the cost of digital marketing?
The cost of digital marketing depends upon the need and size of your company. Most of the companies allocate 10% for the marketing budget and give 35% of that budget to digital marketing. In contrast, experts recommend allocating 50% of your marketing budget for digital marketing because it is the digital world. Companies should increase the digital marketing budget over time, according to the company's lifecycle and revenue.
There is another theory to take a budget decision; companies can review their past budgets of paid advertisement on Google, Bing, Yahoo, and SEO. In this way, a business can have a better understanding of the cost that they incur to acquire one customer.
How can I measure the effectiveness of digital marketing?
There are the following techniques through which you can effectively measure the efficiency of digital marketing;
A key performance indicator (KPI) is the tool that will help you most. If you want to improve the company's revenue, then compare it with past years using Google analytics.
If you want to get more leads, then you should focus on the conversion rate and tactics of lead generation.
The main aim of analytics to track your strategies, whether they worth the cost or not, and whether you need to change them or not.
From where should I take a start?
Now we have discussed the topic in detail; I hope now you have understood the real meaning of digital marketing. If you want to make a start with digital marketing then you need to do the following things;
First of all, pen down the goals that you want to achieve.
Look at the strategies and tactics that would be effective in meeting your goals.
You should know your audience to get positive results because you are successful if you know your audience well. After that, you only need to align your strategies with your goals and plans.